Padmate PaMu Slide Mini Truly Wireless Bluetooth 5.0 Stereo Earphones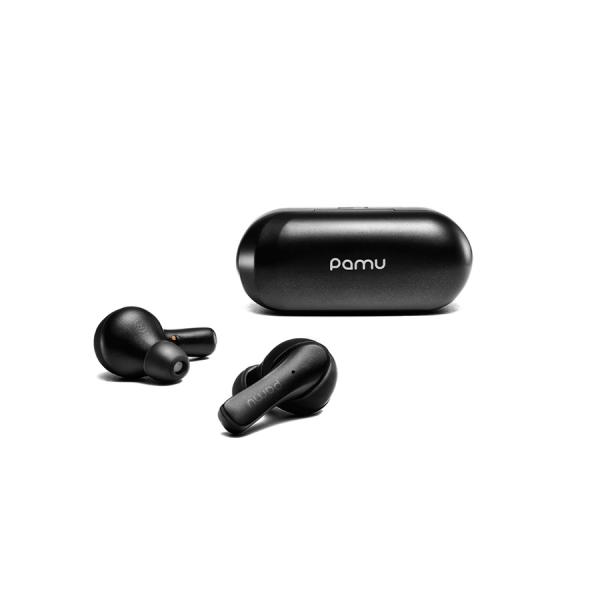 Click image to zoom
Buyer Protection

Genuine guarantee, false one compensate ten.
Full or partial refund if the item is not as described.
Full refund for damaged items.
30 days return or exchange guarantee. Learn more.

Fast On-time Delivery

Order processing: 1-3 business days.
Standard shipping: 5-20 business days.
Express shipping: 3-7 business days.
Delivery Time = Processing Time + Shipping Time. Learn more.

Outstanding Support

7x24 customer service via E-mail.
Fast customer service response in 12 hours.

Accept Payment Method

Worldwide Shipping
Specifications
Product ID

MO1015

Connectivity

Wireless

Bluetooth

Yes

Bluetooth version

V5.0

Wearing type

In-Ear

Compatible with

Computer, Tablet PC, Mobile Phone

TWS chip

Qualcomm QCC3020

Water-resistancec

IPX6

Charging interface

Type-c

Transmission range

>10m

Decoding format

APTX / A2DP / HFP / HSP / AAC / SBC / MP3 / AAC / AVRCP

Battery capacity

85mAh (2) + 400mAh Charging Case

Talk time

Up to 10 hours

Playing time

Up to 10 hours

Standby time

Up to 30 days

Charging time

1.5 hrs (Earphones) / 2 hrs (Charging Case)

Unit diameter

6 mm

Weight

7.0*2 g

Dimensions

37.5mm x 26mm x 19.5mm (Earphones) / 70.2mm x 33mm x 30.5mm (Charging Case)

Warranty

12 Months
Features
Smaller but More Powerful: Slip them in your pocket and go!This charging box even smaller than a lighter! The mini charging box is able to provide earbuds with an extra 30 hours of battery life.
Hearing Heaven: QCC3020, the most advanced, Bluetooth 5.0 tech, Powerful sound with extra bass, Wait until your ears experience the powerful bass and crisp mids and highs.
Never Fall Out: Ergonomically designed to stay in your ears, IPX6 water-resistance & sweat resistance. Run. Jump. Hop around if you like. PaMu Slide earbuds stay where you put them.
Two Ways to Charge: The carry case can be charged via TYPE-C or a Qi wireless charger. Just 5 minutes charging can make 1-hour listening and take 2 hours to full charge the wireless headphones. Charging wirelessly offers you a more convenient charging method.
What's in the Box: 2 Bluetooth Earbuds; 1 Dual-Function Portable Charger; 1 USB Charging Cable; 6 Ear Tips; 1 Carry bag.
By

Ar***l

From

Singapore

on Feb 18, 2020
Black
Charging case looks really beautiful, is really awesome device to enjoy wireless freedom
By

Ka***n

From

Spain

on Feb 13, 2020
Green
The touch controls are nice. They stay in the ears relatively well, but will fall out with quick movements unless stuffed far into ear. Magnetically falls into place in the case and charges quickly. Happy with this product
By

Zz***k

From

Italy

on Feb 11, 2020
Pink
good earbuds,simple and cute appearance,clear smooth sound,simply operation
By

Kt***n

From

United States

on Feb 6, 2020
Black
I really enjoy these headphones the bass is pretty awesome. The connect so easily. Would def buy again.
By

To***y

From

Taiwan

on Feb 2, 2020
White
耳機的聲音挺大的,很細膩,很清晰,低音太多了點
By

Da***y

From

Brazil

on Jan 29, 2020
Black
Buenísima calidad de sonido y te insonorizan muy bien del exterior. Si haces deporte son ideales porque no se mueven absolutamente nada, es como si no llevases nada en las orejas. Se adaptan muy bien. La batería dura mucho. Lo único que para hablar por teléfono no sirven mucho porque hay que gritar para que te oiga la otra persona.
By

Pa***n

From

Brazil

on Jan 22, 2020
Pink
Estos auriculares tienen un sonido y una calidad de llamada absolutamente sorprendentes, y es realmente agradable tener toda esa duración de la batería. Sin embargo, estos son increíbles y los recomiendo sobre todos los demás a este precio.
By

Ry***w

From

India

on Jan 17, 2020
Black
I actually like these headphones alot. The sound quality is good. It's not the Bose or Shure or Jaybird headphones that I also own but it's good enough for me to enjoy podcasts, movies and music with it. I love how it looks and prefer these over the Apple Airpods.
By

Kr***n

From

United Kingdom

on Jan 16, 2020
Green
I have a pair of these. They work really well with my cell phone, but, the thing is I have a Samsung S7 which I've had since 2016 so it's an old phone that still holds true to me. I can't be on more than one app in my phone if I'm using these because it will quickly heat up my battery and my cell's battery to drain quick.
By

Ag***a

From

United States

on Jan 9, 2020
Black
Sound quality is pretty good and size is comfortable. Instructions for use aren't that complicated so not bad at all.
Review this product, share your thoughts with other customers