All Customer Reviews: Water Resistance Bluetooth 5.0 Voice Assistant Padmate PaMu Scroll Earbuds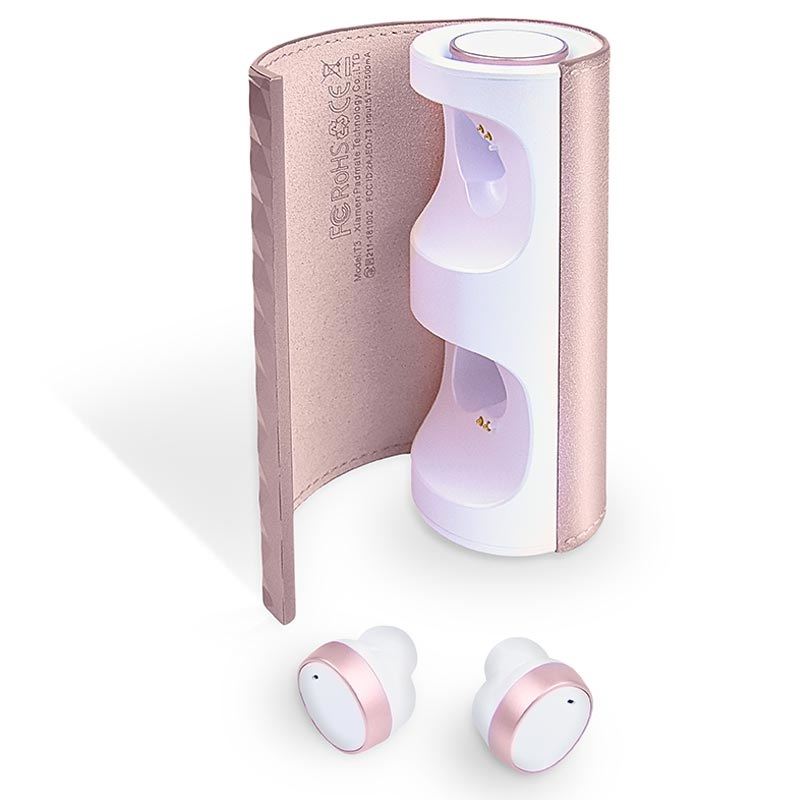 4.9 out of 5 stars, based on 41 review(s)
By

Em***n

From

Hong Kong

on Feb 8, 2020 16:08

Pink
I bought this as a gift for my sister, she love it and using them at the GYM, work, in the car, and...
By

Ni***l

From

India

on Jul 8, 2019 08:44

Sienna
Simply amazing - I've never had the charge run out while using them, and the recharge time is quick! The only issue I've had is that sometimes they connect to my phone or tablet while on the charger. But that's only happened twice since I bought them!
By

Sw***u

From

United Kingdom

on Jul 2, 2019 20:32

Sienna
Excellent sound and battery life! Love it very much, thanks.
By

We***n

From

Russia

on Jun 24, 2019 19:19

Brown
Beautiful headphones, better sound than I thought.
By

Ta***n

From

United States

on Jun 20, 2019 20:13

Black
Packed perfectly, the box of headphones was not damaged. The headphones themselves are cool, picked up ear pads and hooks, charged, tuned the equalizer and just enjoyed the music. The sound is clean, the bass does not beat on the ears, but plays smoothly in all tones.
By

Br***r

From

Brazil

on Jun 15, 2019 16:25

Sienna
o aparelho tem ótima qualidade de som, e é um ótimo custo benefício, já que apresente qualidade igual ou melhor q aparelhos do mesmo preço, ou até mais caros. portanto o fone se qualifica como ótimo custo benefício
By

Pu***e

From

Brazil

on Jun 11, 2019 09:38

Black
Muito bom o fone, qualidade absurda, muito lindo e elegante, show mesmo, chegou rápido e como descrito
By

Ou***d

From

Italy

on Jun 7, 2019 16:16

Pink
excellent quality product, the sound has good bass, it just took a while to arrive
By

Ko***l

From

Thailand

on Jun 5, 2019 15:03

Sienna
fast delivery about 8 day. The product have quality . สินค้ามีคุณภาพ จัดส่งไวใช้เวบาไม่ถึง 2 อาทิตย์ ที่สำคัญราคาไม่เพลง คุณภาพเสียงใช้ได้ แต่ต้องใส่ให้แน่น เสียงถึงจะดี ถ้าใส่หลวมเสียงที่ได้จะแหลมๆ
By

Au***t

From

Russia

on Jun 2, 2019 13:16

Sienna
товар пришел быстро. качество хорошее. рекомендую.
By

An***g

From

United States

on May 31, 2019 09:11

Black
My husband has the first Pamu earbuds and he loves them. I decided to give it a try and order these because of the very elegant and sleek design. I love them! They are very light and fit in great in the ear. I had to use a smaller ear tips but it is great they come with extra pairs. The sound quality is amazing. When I talk to my friend or listen to audio book, I can hear very clearly. The surrounding noise is blocked which gives me great sound experience. I like that I can use each earbud by itself. While I am driving I use one earbud. When that one needs to be charged, I can always switch to the other one. Once charged, they last long. If you want quality product for less money, this is your stop.
By

Qi***z

From

Brazil

on May 28, 2019 10:49

Black
Excellent headphones. Better quality. Shipping is very fast and arrived in just 10 days.
By

Wo***j

From

Brazil

on May 24, 2019 19:32

Brown
Boa qualidade. Sem pagamento postal.
By

Xp***a

From

Thailand

on May 23, 2019 14:13

Sienna
I appreciate the size and connectivity. Quality is great. I like the fact the case provides more battery power.
By

Tr***3

From

Taiwan

on May 18, 2019 19:20

Black
收到了很久了才來評價,音質真的很不錯